There's no denying that 2020 has been such a strange year for everyone, most news stories are full of doom and gloom and there appears to be little going on to lift our spirits. As we enter December it's time to spread some cheer!
Giving back!
At Quattro we have thought long and hard about what means most to us, of course the answer is family, and we are lucky that our small but perfectly formed team is like a family too. So this led to a discussion about what can we do to make a difference? Covid may be keeping us apart, but that doesn't stop us from caring about each other.
We all have charities that mean something to us and this year most have suffered financially as fund raising events have not been able to run, many charities rely on this cash to provide support to those in need.
So, rather than send out hampers or gifts to our wonderful clients this year, we have decided to use the money to donate to charity on their behalf instead.
Decisions, decisions.......

Annually Joy & Neil sponsor a Nepalese child's schooling through the JMB Educational Fund who do great work with St Xavier's School in Kathmandu. This year they also wish to support causes closer to home.
But, with so many worthy causes out there, how could we chose just one? So we decided to split the donation amongst the charities that meant the most to our team.

Shona's choice is Histio UK. Central Nervous System Langerhans Cell Histiocytosis Neuro Degeneration affects her nephew Archie and has impacted all the family - very little is known about Histiocytic disorders and the treatment "strategy" has been described as being 'based more on a roulette wheel than on scientifically based logic. Histo UK has been a great support to Archie and family.

Ben's choice is Muscular Dystrophy UK. They support families living with muscle-wasting conditions. MD UK provides information, advice, resources and support for people with these conditions and they fund medical research. His nephew, Will was diagnosed with Duchenne Muscular Dystrophy (DMD) when he was 4 years old (in 2014), a severe muscle wasting condition for which there is no cure. Will and his family have benefited from both MD UK's support and the research that they fund.
Neil has chosen to nominate Myton Hamlet Hospice in Warwick, they provide respite care for the terminally ill. His Grand Mother spent two weeks there before she died of lung cancer, they do a great job in very difficult family circumstances.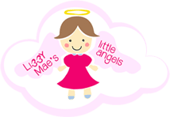 My charity of choice is Libby Maes Little Angels, a local charity who provide much needed equipment and much more to neonatal units across the West Midlands. I have followed the charity from their beginnings as my son Archie spent the first 5 months of his life in neonatal care as he was born at just 25 weeks gestation (he is now a strapping 7 year old!)
Seasons Greetings to you all!
So with a little bit of cheer spread wishing you all a fabulous festive season from all of us here at Quattro!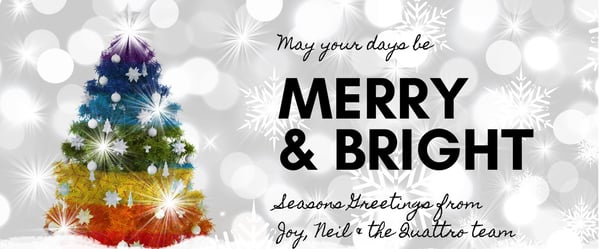 Links are included should you wish to learn more about or add your own donation to any of our chosen charities.