We help businesses grow by creating or optimising websites to attract visitors and convert visitors into sales leads. We do this through the intelligent application of design, inbound marketing and digital strategy.
In isolation each of these services will have an impact on your new business activity, but used together these services will transform the way you market your business online. Helping you to build your brand, attract new customers, grow your relationship with them and most importantly measure this activity, so you can be confident that your investment in our services is producing a return.
HOW DOES THIS WORK
Each of our services address a key part of your buyers journey through the sales and marketing funnel.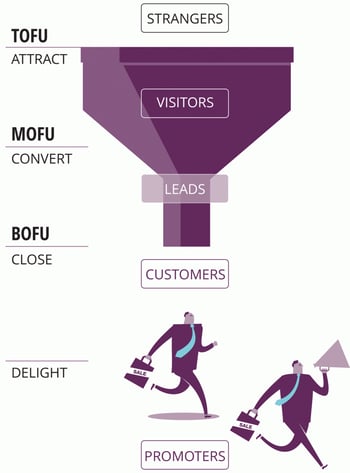 Awareness
TOFU – top of the funnel; here you will find visitors (researchers) to your site that aren't necessarily ready to buy yet, but are researching and learning about the product or service you offer.
Consideration
MOFU – the middle of the funnel; here you will find visitors (shoppers) to your site that are potential buyers or clients. They can see that you are offering a solution/product that meets their requirements; they are just not sure whether they want it from you.
Decision
BOFU – bottom of the funnel; here you will find visitors (buyers) that are ready to make a purchase from you.
How our services fit into the sales and marketing funnel
Awareness
At the top of the sales and marketing funnel (TOFU) we use our skills in branding, digital strategy, SEO, social media and inbound marketing to raise awareness of your business and attract customers.
READ MORE
With branding, we look to position your company uniquely in the marketplace with reassuring authority. With Digital strategy we look at your business goals, your products/services and your customers and develop a digital strategy that will detail which digital channels you should be using and how to communicate through them. For clients with existing websites, we will help you with on-page and off page search engine optimisation. For new websites we can help you put the foundations in place for great search engine positioning. Our inbound marketing team will work with you to develop customer personas, or scenarios that your potential customers may face. From this we will develop content strategies to address these scenarios and attract potential customers to the solutions. Typical content at the top of the funnel includes blogs, social media, eBooks, how to guides, videos and industry reports. The best awareness gaining (TOFU) content is content that answers a potential customer's real-life problem or need and that positions you as the expert problem solver.
Consideration
At the middle of the marketing funnel (MOFU) we apply our skills in web development, user experience design (UX), email marketing and inbound marketing to nurture potential customers. At this stage activity is focussed on reassuring potential customers that you can provide the product or service they need.
READ MORE
We do this by creating effective user experiences that address each of your customer personas. This ensures that your website not only has the right information for your customers, but that it presents it in an easy, effective and accessible way. Converting site visitors into potential customers means gathering data, so as part of our user experience guidance we help you to build 'calls to action' into your site. These are key conversion points where visitors are encouraged to make contact. Our inbound marketing team will work with you to develop content to encourage conversion. Typical inbound marketing activity at the consideration stage includes case studies, testimonials, affiliations, endorsements, and demos/videos showing what you can do. Email marketing is also particularly effective in reaching out to potential shoppers and addressing common queries or concerns they may have that currently stand in-between them and making a purchase.
Decision
At the bottom of the marketing funnel we use our skills in inbound marketing to help you convert those enquiries into paying customers.
READ MORE
Our inbound marketing team will work with you in analysing the leads that are coming into the business and will help you formulate content strategies to close the deal and convert those leads into customers. It may be that you offer a free trial, a personalised email with an initial discount or some free consultation. Whatever you offer it needs to be enticing enough to tip a visitor who is ready to buy into one who's just paid.