Every day there are hundreds of design engineers, specifiers and procurement managers across the world searching for suppliers like you. How can you be sure that you have a chance at their business?
Most of the manufacturers that I've worked with and indeed the majority of Midlands manufacturers rely on a tried and tested formula for capturing the attention of potential clients. This formula consists of a combination of trade shows, trade membership, factory tours and PR around their accreditations. Their websites are split into the markets they've worked in, their kit lists and the latest edition to the tool room. Credibility is evidenced by testimonials and case studies and news pages are littered with stories of big multi-million pound contract wins, awards and trade show attendances.
The missing ingredient
preventing manufacturers from
making more sales is inbound.
All of this activity is great, but it is focussed around the middle (MOFU) and the bottom (BOFU) of the sales funnel, an area where already engaged customers need to be reassured that you are the business to buy from. As a manufacturer, the missing ingredient to achieving more sales is at the top of the marketing funnel where new customers are to be found.
---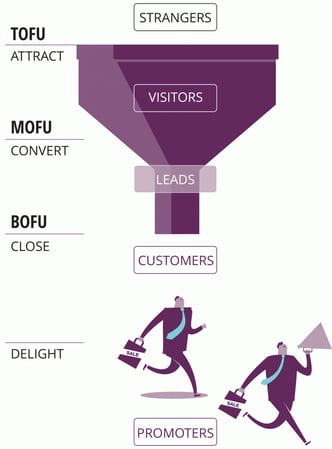 Read more about the sales funnel
and each stage of the process
---
To attract potential customers to your website you need to offer something that they want. A product, service or a capability isn't enough, you need to become a problem solver, with all the answers. Customers need to be shown or explained to. It's like decorating; many of us don't know how a room will look until we see the colour on the wall. Potential customers can't see how you can help them without you showing them.
How do you do this?
The answer is Inbound Marketing, a process of attracting customers to you website by generating content that solves the potential problems they face in their industry.The great thing about this approach is that you already have all the answers, you just need to package them up differently. Follow the 4 steps below, then download our FREE inbound checklist and work through each stage.
1. Use your existing customers
Tap into their knowledge and intel and find out why they chose you over your competitors, this will help you determine what makes you unique.
2.

Ask them what problems and challenges they face
What problems did you help your customers solve? Their competitors are your potential customers and will likely have the same problems. List out as many problems as you can.
3. Solve these problems
Take your list of problems from step 2 and start writing content about how you solved these problems. Be as technical as you need to be. For example if the problem involved pressing very intricate components out of very difficult materials, talk about how you not only solved the problem but share some best practice tips that made the end result even better. All of this content then positions you as an authority in your field and trust is naturally earned.
4. Put your content where your potential customers will read it
Tap into your existing customers again and find out where they go to find out answers to their manufacturing problems. This is where you need to be seen and where your answers need to be seen. It might be Twitter or LinkedIn, a specialist manufacturing blog or forum. Being seen as an authority, in the places where your potential clients go for answers, will get you noticed and more importantly you will start to attract those leads.
This is inbound marketing in a nutshell; the missing ingredient in your sales process and the best way to attract design engineers, specifiers and procurement managers to your website.
There are very few manufacturers in the Midlands using inbound which makes it a fantastic opportunity for those that do, to not only stand out from the pack but also to clean up on sales. Follow the steps above then download our FREE guide to help plan your first inbound campaign.
Inbound Marketing Stratford upon Avon
Based in Stratford upon Avon Quattro is uniquely placed to help businesses across the Midlands with their lead generation. Try inbound today with our FREE guide or call us on 01789 608015 and talk to one of our inbound specialists.