It's been another very tough year for many businesses, a year that has made a lot of people stop and think about what they do, why they do it, and most importantly, how can I do it better? By knowing your clients and understanding THEIR needs, businesses can get ahead of the competition. Maybe you have thought about providing additional services? Where do you start and what services can you offer that compliment your current business model?
Now is the time to really ask those questions, to look at creating multiple revenue streams and securing the future for your business. In this article, we share some insights for businesses wanted to improve their financial security by becoming more agile.
Why is agility important?
If the last year has taught us anything, it's that ANYTHING can happen! If your business only has one product, one revenue source, or one service then you are in a more delicate position than those offering a variety of products or services. By bulking up your portfolio and becoming more agile you are protecting your business, increasing your income, AND potentially reaching a greater number of clients by offering appealing to a larger audience. Read our blog about attracting more customers here.
How to identify your next business goal?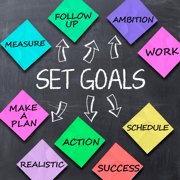 Start with some thorough research, look at your existing client base, talk to your frontline teams and understand what you could improve on, or offer in addition to your current products or services. Don't forget it's important that you continue to look after your existing clients as you start to attract new business, they got you where you are today and can help drive your business forward too!
Your frontline teams will know your clients best and will no doubt have some valuable ideas on where improvements can be made. Go back to basics to really understand what will enhance your clients' experience. It may even be an element that they do not yet know they need. Be innovative and think outside the box to find the 'must have' addition to supplement your products or services.

How can I measure my performance?
Using a comprehensive CRM system such as HubSpot's free CRM will help you keep track of your clients, segment your prospects and customers into lists, e.g. what they are buying, where they are located, what industry they are in, and what they are worth to your business.

In addition, the reporting suite can be tailored to each organisation's needs. The analytics could easily compare your new products or services performance against your existing products and services, identifying the benefits to your business. There are so many reports from high-level to detailed analytics. One popular report is one that shows how many new clients you have secured over a given timescale. The average length of the sales process, by company size, location, existing client upsells compared to new business; the options are (almost) endless!

What if I don't have multiple revenue streams?
Of course, it depends on the size of your target audience, quantity of sales available to your company, size of competition in the market and many other factors but some businesses have found themselves at risk of financial difficulties when their main source of income is affected. If a company's basic operating costs are more than the revenue they are generating, then obviously they will start to run at a loss. Clearly not the position any business wants to find itself in.
Example 1: May Accounts
Monthly ARR from original software (75 clients @ £200) = £15,000
Monthly operating costs (payroll, rent, business rates etc) = £10,000
Monthly profit = £5,000

If you lose 25 clients your business will instantly be running flat, generating no profit at all, if just one more client goes you will be into negative figures…
Example 2: June Accounts
Monthly ARR from original software (75 clients @ £200) = £15,000
Monthly ARR from original clients adding the second platform at a reduced cost (25 @ £100) = £2,500
Monthly ARR from new clients gained from the second platform (25 clients @ £200) = £5,000
Monthly operating costs (payroll, rent, business rates etc) = £10,000
Monthly profit = £12,500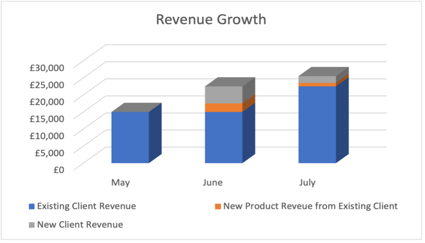 As your original software is running efficiently you can move resources around to develop and market your new product or service, ensuring client support is still there if required. This is keeping your running costs the same but generating extra revenue and in turn extra profit.

What next?
You've grown your business by developing a new product or service, taken time to check on your clients, and make sure you are delivering what you promised. By nurturing your clients, they will naturally recommend you to other people, advocating your services and by default growing your business even further. You may naturally lose clients along the way, not through any fault of your own, but if you have clients championing your business and you continue to provide a great service then you will always gain clients too.

Check your stats and quick wins!
Keep a close eye on your reporting to see your performance, address any weak areas and push your strengths to ensure maximum success.

It's important that you continue to seek ways to grow your business and using a system and CRM like HubSpot can really support you in doing this. With marketing, sales, service, and reporting functions it really helps you to care for your customers from their very first interaction with your company right through to becoming a happy customer and to referring you to others.

If you wish to explore what HubSpot can offer your business, just click below to get in touch and we will arrange a call to discuss your requirements.