Which CRM are You Currently Using?
While the solution you are currently using may fall short of your current business requirements for data management, there must be elements of the process which work for your business (otherwise why would you have been using it for such a period of time?).
Analyse your business requirements for each team who will be using the CRM moving forwards
Document them fully with a classification of need - Essential, Important, Nice to have
Share this with the team who are sourcing and evaluating the available CRMs
Share this with the CRM businesses whom you approach for them to provide a complete response to your requirements
Choosing Your New Client Relationship Management System
This is a whole blog in itself, but by using the requirements document you pulled together when analysing business need you will have a full picture of which CRMs can achieve them. Elements such as usability, support, and cost of course also need to be taken into consideration. Opt for the system which ticks most, if not all of the boxes. You do not want to expend all that business time, energy and money to implement a system that falls short of the mark once it is up and running. Also, read our article on 'Our Agency's Story; What is the Best CRM Software?' to help you choose which CRM system suits you.
How Do You Approach Your CRM Set-up?
You've got the right system, where do you start?
Depending on which system you have chosen, I would expect that you would get some onboarding support from the CRM agent you have been dealing with. Of course, you may choose to manage it independently which makes the checklist below key to your success.
Checklist of Key Actions to Take for a Successful CRM Implementation:
- Before you do anything else - data cleansing is key
While it would be great to simply export your data from your current CRM to the new CRM, it unfortunately isn't that straight forward (unless your records are immaculate - be honest, in order to carry out a successful CRM migration as the better state your data is in, the more usable and future proof it will be.
Where is the best place to carry out the data cleansing?
Your current CRM is still being used by the business and therefore you don't want to disrupt business as usual, but bear in mind that this database will continue to grow while you are data cleansing so don't forget to bring across these final records when the system is changed.
If it is possible to export your data, this enables you to carry out thorough cleansing before the data is imported into your new CRM - if you import directly, are you likely to fully cleanse it or just think - that'll do and not complete the task and the dirty data would continue to cloud your CRM and reporting going forward?
- Ensure you map your data
You shouldn't have to adapt your data to the CRM system you have chosen, the CRM should be customised to how your business works and to how you wish to report against it. Ensure you get all the data you require in the new system, but don't overwhelm your team - why do you want to transfer that data - because it's always been there? Is it going to be used in the future or just muddy the important data?
- Transferring your data
Before you import your data, create a sample import file which will enable you to see that all the fields map correctly and the cleansing you have undertaken has worked and data is created where you expect it to be.
Once you are happy with the transfer process and how your data is appearing, it is time to take the plunge and transfer all your records. With all the work you've completed to get to this point, don't worry the data will import and map to where it should go.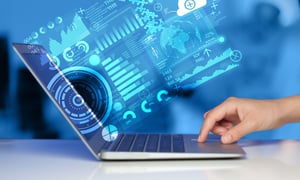 Something to think about - create a field when importing your data such as 'Import name' to enable you to see that these records have come from a legacy system and are historical data.
- Testing your data before you let everyone loose
Before you let the rest of the company loose in the system, ensure you test it thoroughly. Go through a number of records to ensure your data is where you expect it to be and the fields are showing information you want your teams to use.
While testing the system, write down key user elements you want your teams to follow. The training material for CRMs such as HubSpot's CRM is very comprehensive, but having business and role specific guidelines will also ensure user buy-in and that the system succeeds.
- Supporting your team through the transition
How well a system is implemented and adopted depends greatly on the time taken to support the teams which are using it on a daily basis. Software is not the solution in isolation - your teams need to be fully bought in for your business to reap the rewards of the benefits promised.
Things to think about:
Create champions who will support their teams and get to know their part of the system inside out
Have regular review meetings to ensure processes are working, time is saved and that your teams are getting the most out of the CRM
Implementing a CRM is a massive undertaking but with the right system and support, it doesn't have to be a mammoth task. Quattro have worked with many clients supporting them when transferring from a number of different legacy CRMs. Let us show you what HubSpot CRM Software can do for your business and why our approach is different.