Connecting with and converting potential prospects is the base of any sales or marketing function. Driving revenue and conversion rates is a core KPI for any business. This article offers you content strategy tips to help you attract your target audience.
"Another Hubspot Notification that John opened my email. Why doesn't he ever just hit reply?"
With a longstanding career in the digital forum, content-enablement tools such as HubSpot act as both a platform for ideas and a tool to get those ideas shared with the digital world. Also, content management tools such as HubSpot provide a continual and useful analysis of valuable insights (such as; John has just opened your email). This is so helpful...but, it can also be insanely frustrating when it's totally clear that the desired outcome of a reply isn't happening.
This is a bit about me, working in prospecting and sales for an Elite HubSpot Solutions Partner...
Most inbound leads that come to us are mainly from SaaS, Fintech and Manufacturing Companies among others.
I love our target markets, they're almost always amazingly innovative, interesting and successful people and no two companies are the same. The issue is (they would agree) they are also extremely busy and on a large scale, usually across the globe, therefore have ​some of the worst communication "habits" ever.
I have found this to be true in my recent role when prospecting for Quattro over the past few months. These days it's relatively easy to ​find​ company's contact information, but it proves difficult to get any form of response from them due to their busy schedules and longer working hours than the B2C companies I am used to.
After a few weeks of insanely frustrating attempts, trying all available channels. I finally decided to just start creating content that would hopefully be of interest to them. I also aimed t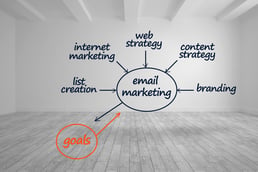 o write for the different demographics and roles within their companies.
Coming from a more direct sales role this new inbound approach takes some getting used to. Mentally, I had massive resistance to the idea, changing my process from personalised direct contact to a broader content channel. I knew it ​could​ be done, but at first it just ​doesn't feel natural to me​.
Why Use a Warm Outreach Sales Process?
As HubSpot says: "warm outreaches are when you've taken the time to significantly learn about your prospects, their businesses and marketplaces prior to creating content or contacting them" – Dan Tyre
Please also feel free to use our helpful guide on how to create an inbound content campaign below:
While I didn't know this definition at the start of my new role with Quattro, this has since proven to be the core to my gaining successful connections with prospects through the use of content to start a conversation.
Now I have started sending content into the digital world, the results have been nothing short of astonishing so far! Here's a summary of the benefits I've found when sharing relevant content that resonates with my prospects:
My target prospects who never responded to phone calls, voicemails, or emails, immediately would be engaged in the content I shared.
New markets who we haven't targeted engage in our shared content providing new leads into new marketplaces via inbound methodologies.
At Quattro, we have seen an 80% engagement rate on content that offers assistance to our target markets and this helps me enormously when building relationships with new and existing clients. My favourite result of using content to acquire inbound leads is through referrals via social media engagement.
Ultimately, what I found is that meeting new people from a well-crafted post or blog article is a great way to build trust, especially when the content offers some value and ideas that the company actually found useful.
It's great to hear when these new contacts overcome potential barriers in growth from reading our content - we have all experienced a new outlook following a post or article read online, mostly offering a non-bias, often fresh approach to an existing problem.
Overall benefit of using content strategies to break the mould of your prospect conversions.
So Think, Research and gain as much knowledge around your target industries common problems and you are already onto a winning process.
For many industries, it will not be as easy to find their most common challenges but when you find them, follow the content strategy tips above and you'll be engaging with more qualified prospects than you can handle!
For further information and content ideas please visit our blog archive to expand your knowledge in techniques and how aligning with HubSpot could be your answer to scale and growth!